Commercial Maintenance and Cleaning Services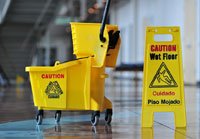 Puritan Maintenance has been providing high quality commercial maintenance and cleaning services to corporate facilities managers, property owners and managers and condominium associations in the Greater Boston area for more than 25 years.
Since our founding in 1982, we have provided:
A pro-active approach to maintaining commercial facilities and keeping them clean.
Customized services to fit specific needs, budgets and priorities.
Environmentally friendly products and top quality, highly efficient equipment.
Senior management's involvement in field operations.
A comprehensive "wall to wall" and "floor to ceiling" maintenance approach.
We work to ensure that the properties we service will retain and realize their value by keeping them in top condition and looking their best at all times.
Our staff is highly trained and equipped to handle your specific cleaning and maintenance needs. In addition, our dedicated carpet cleaning and flood restoration units ensure that all of your maintenance needs are met including:
General cleaning and maintenance
Carpet cleaning – small to large areas
Flood restoration – leaks, floods, water damage
With the largest inventory of restorative drying equipment in New England, Puritan not only keeps your properties clean and maintained, but also offers expert, fast and safe flood restoration services. In the event of a plumbing failure, inclement weather or other situation that may cause your property to flood or sustain water damage, having direct access to a cleaning firm with restorative drying capabilities can save you time and money.